The Leadership Institute trains conservatives. Its more than 230,788 graduates are governors, senators, state legislators, leaders of conservative organizations, activists and students who understand that it's not enough to be right -- you must study how to win.

These graduates are ready to out-organize, out-communicate, and out-mobilize their opposition, thanks to LI training. With 66,275 student hours of training in 2020, more conservatives are ready to win in 2021 and beyond. Below are a few highlights in Leadership Institute's 2020 infographic: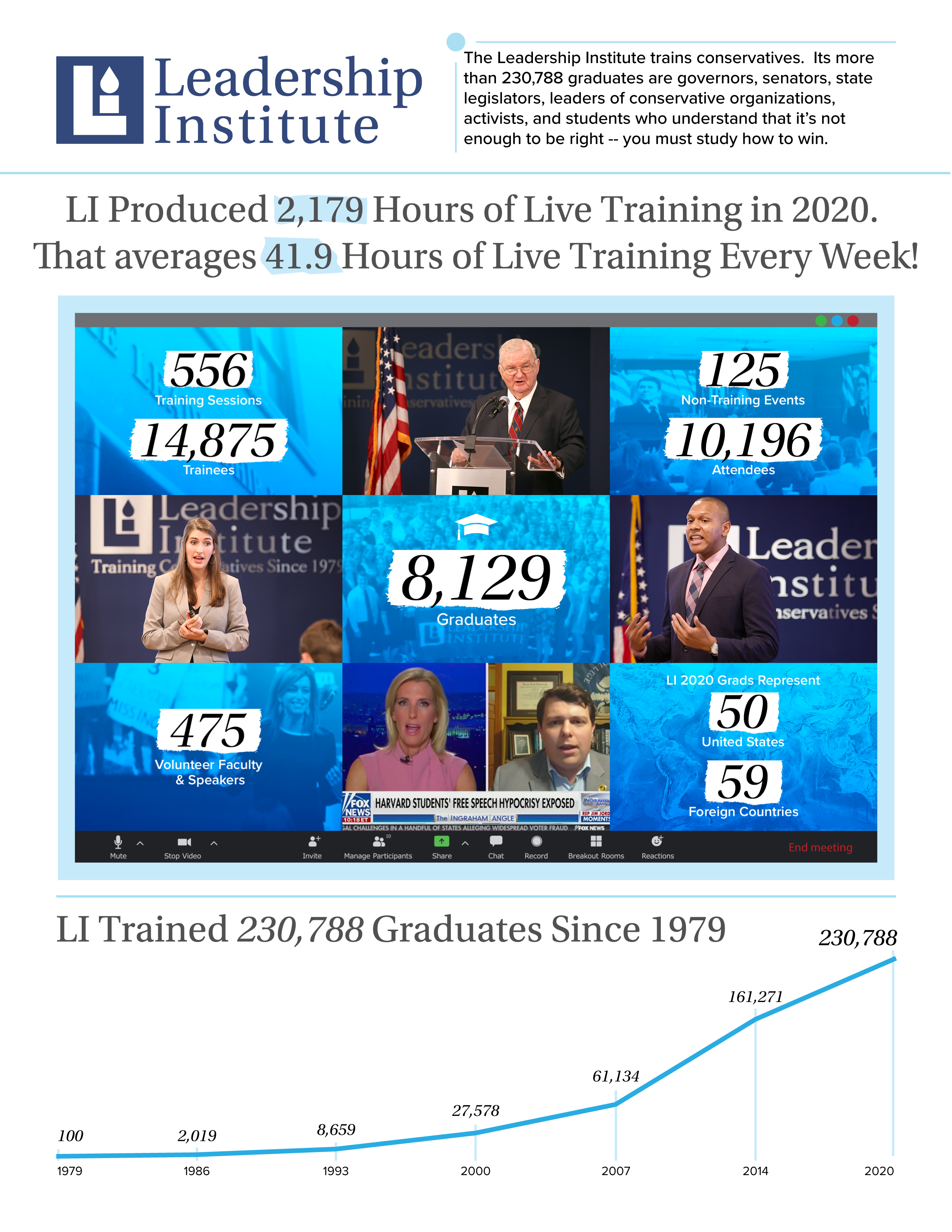 Each year, hundreds of young conservatives get their start in politics thanks to the Leadership Institute's career services. LI's ConservativeJobs.com connects job seekers and recruiters online, easily and for free. LI serves as a human resources department for the conservative movement.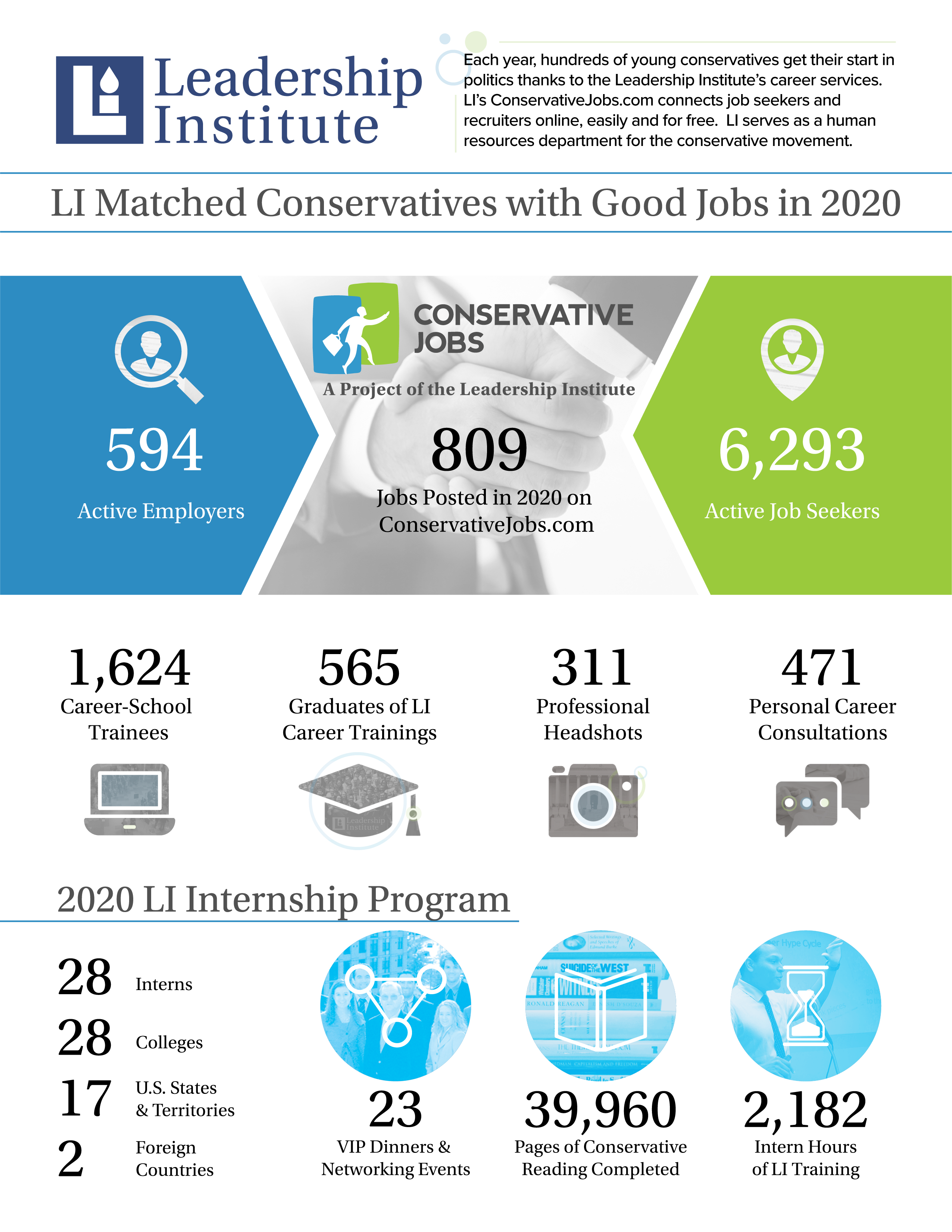 The Leadership Institute identifies and trains conservative college students to organize campus groups that promote and defend conservative values. With LI's help, tomorrow's conservative leaders begin their political careers on campus today.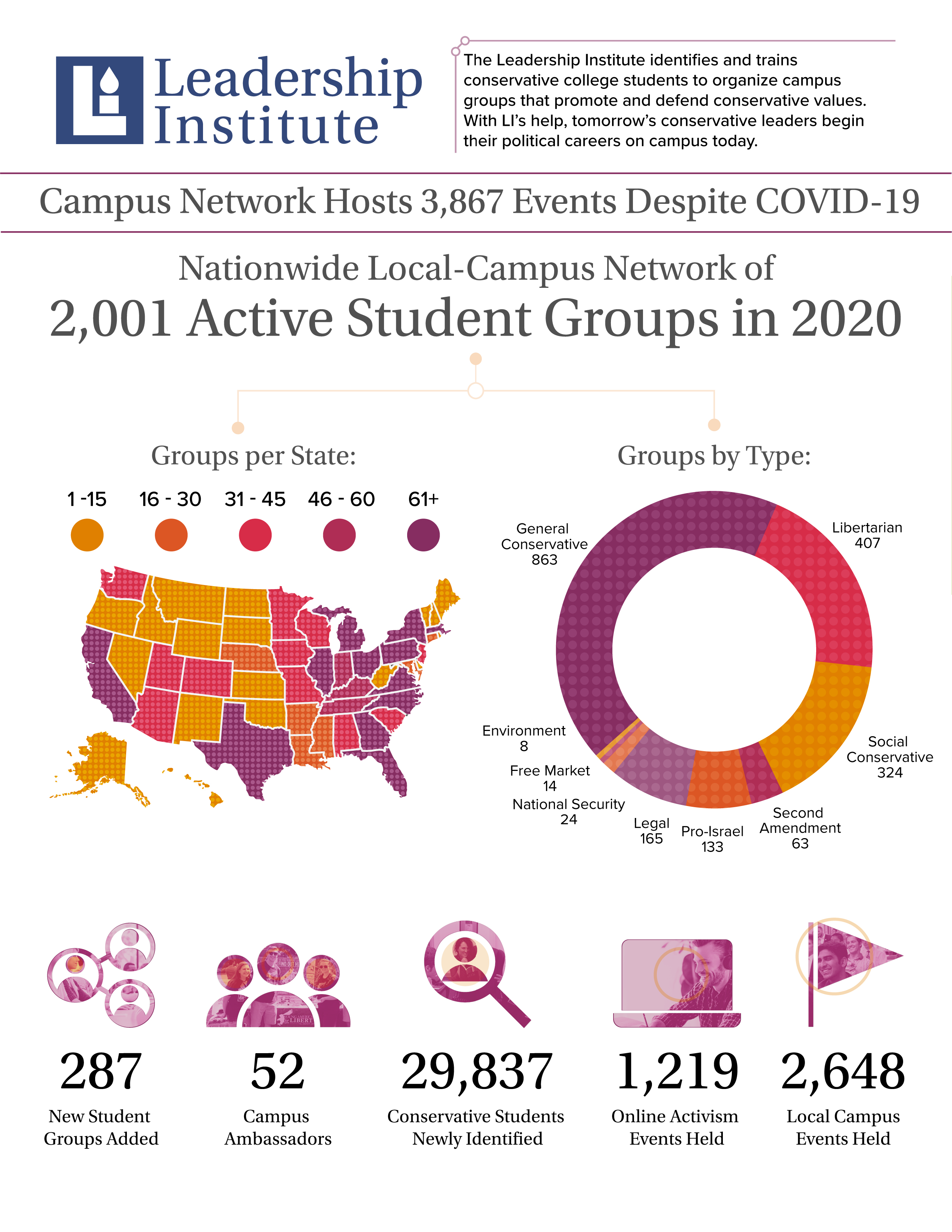 Since 1979, LI's Youth Leadership School (YLS) has trained 25,490 conservative students to lead mass-based youth efforts for the candidates and causes of their choice. LI's new Youth Leadership Workshops (YLW) provide an introduction to YLS training for students at conservative events.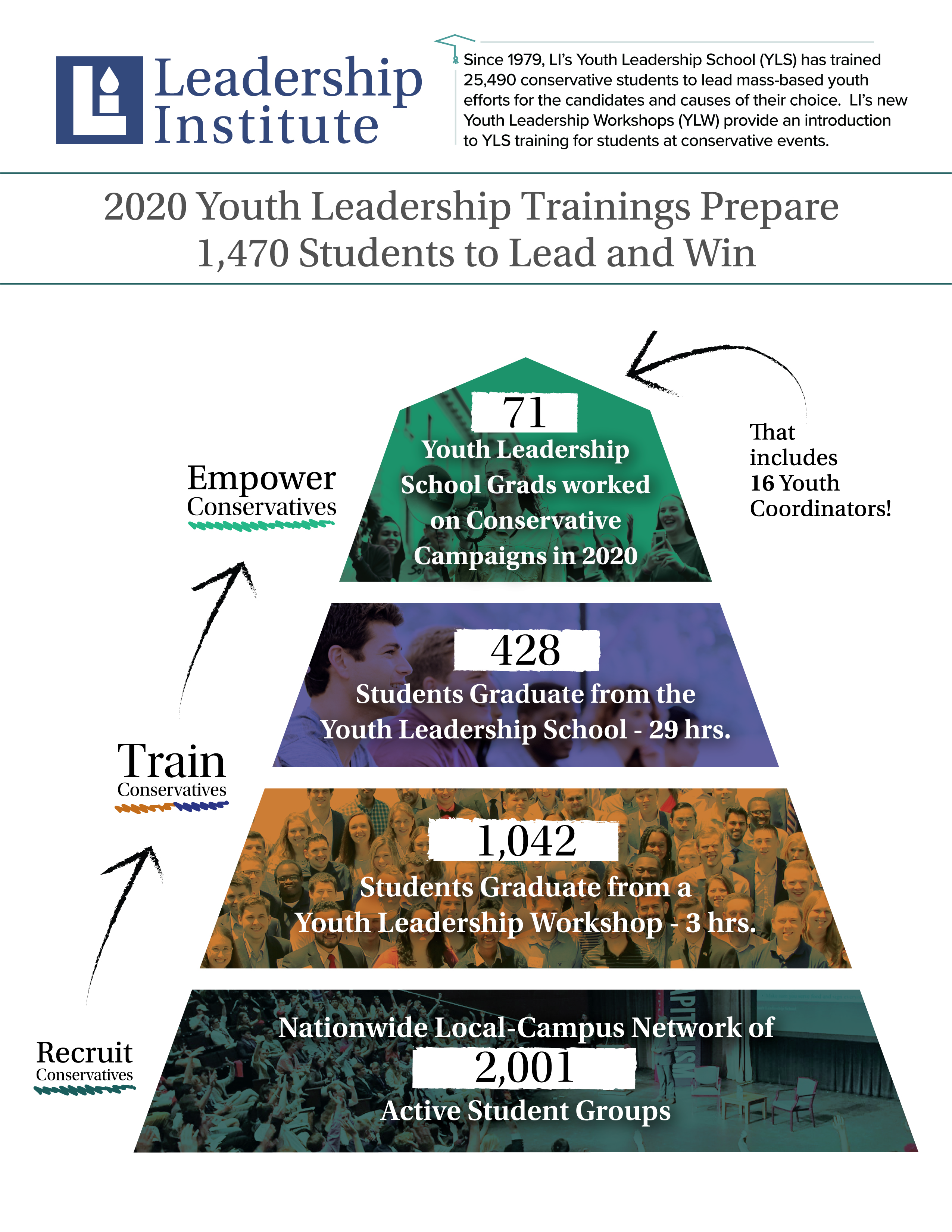 Campus Reform, a project of the Leadership Institute, is America's #1 source for college news. As a watchdog to the nation's higher education system, Campus Reform exposes liberal abuses and bias on the nation's college campuses.
You may have seen LI's Campus Reform reporters, who appear often on Fox News.
In 2020, Campus Reform published 1,957 stories, earned 6,106 republications in other media and 461 national and local TV hits – and 36 victories. A victory is defined as any policy change, apology, or administrative/faculty firing resulting from Campus Reform coverage.
Campus Reform's website attracted 11.8 million pageviews; Campus Reform's YouTube channel attracted 34.2 million views.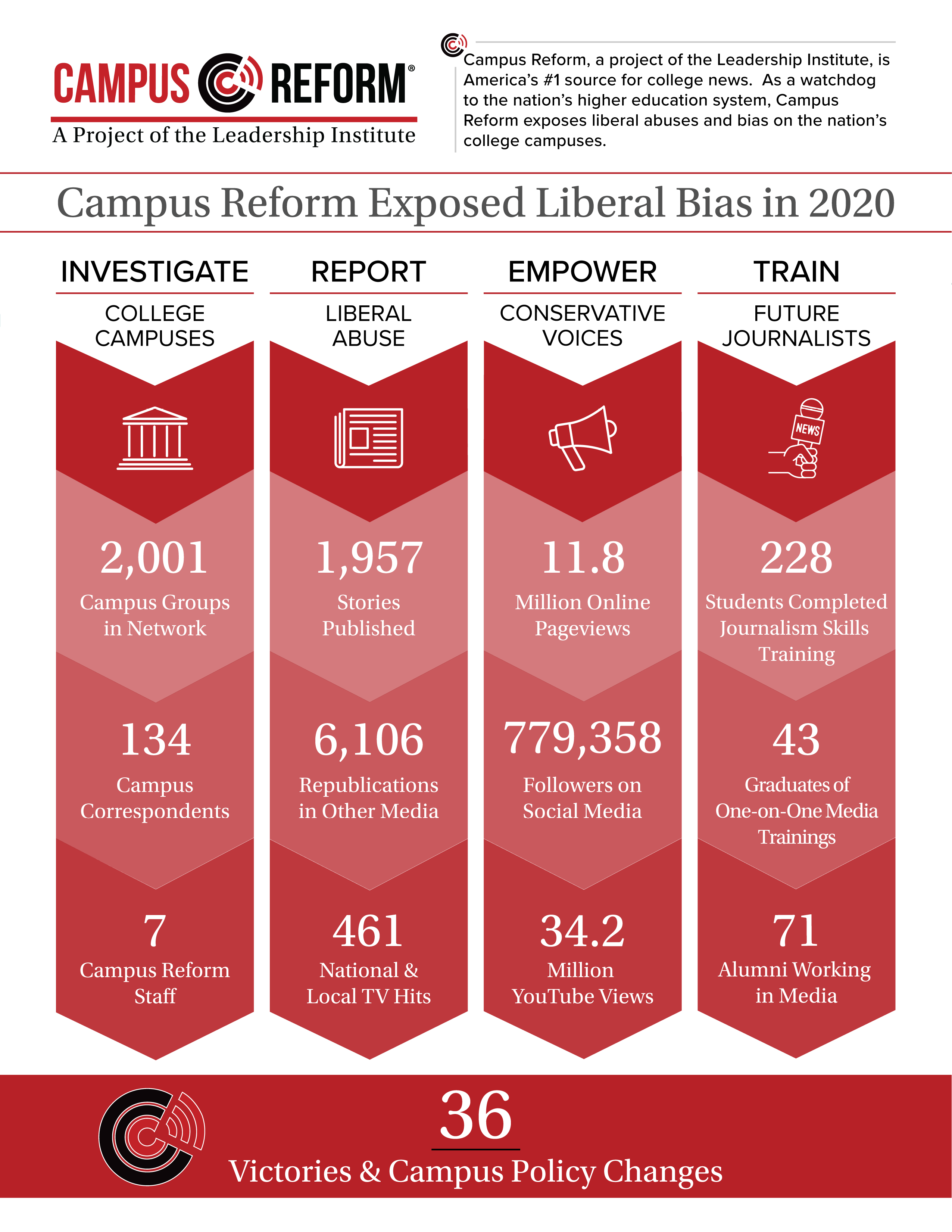 Conservative and libertarian students stood up to thuggish leftists' anti-free speech protests -- and won.
The Normandy Coalition, a group of 30 organizations led by the Leadership Institute, supported these students with speaker grants, training, on-campus assistance, and legal counsel.
Since its creation in 2017, the Coalition has held 9,384 campus speaker events using 4,197 conservative speakers on 681 campuses.
Forty-seven anti-free speech protestors have been arrested. Damages from 34 lawsuits filed in protection of free speech total $816,800, with 53 free speech victories on record.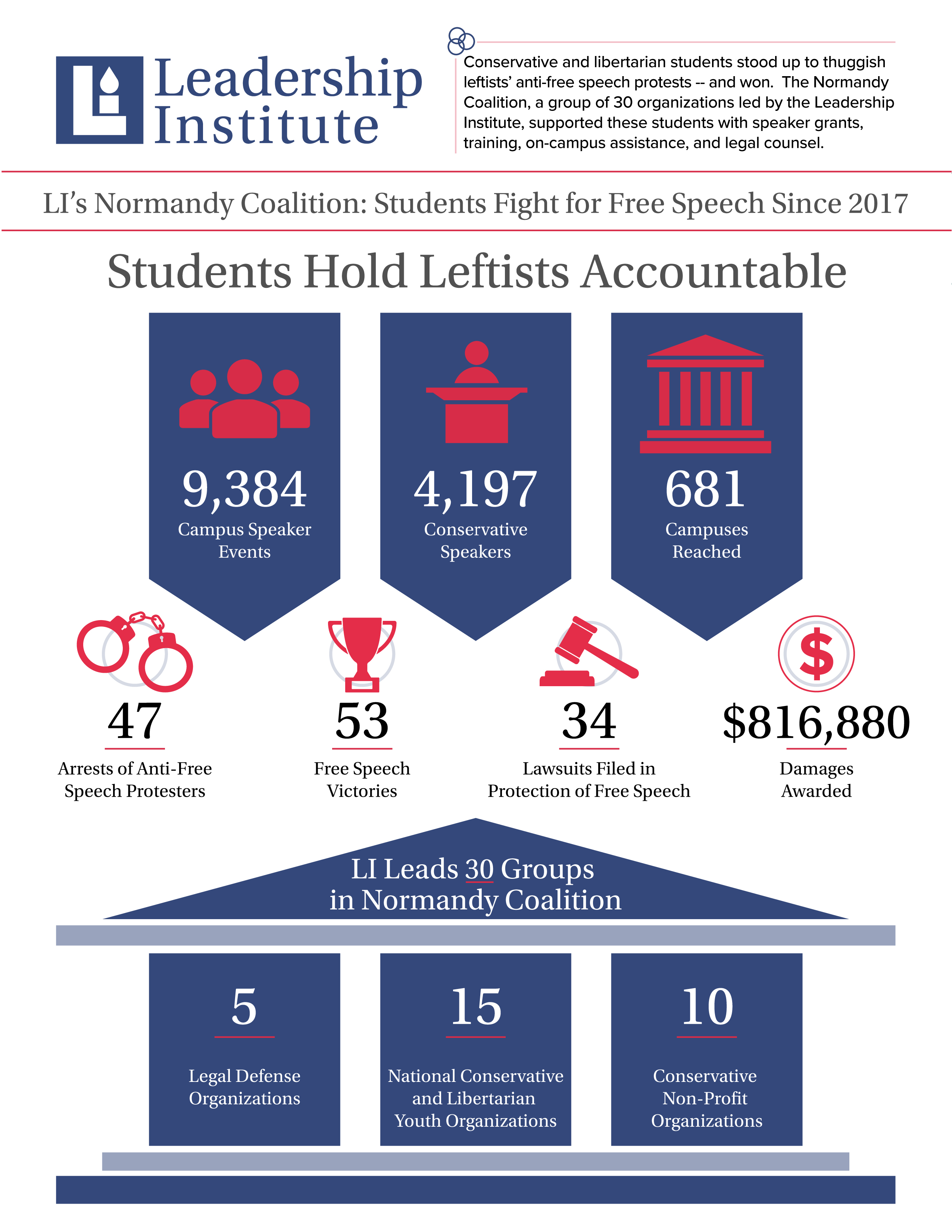 The Leadership Institute offers online training, from live, interactive online classrooms to recorded lectures viewable 24/7. LI's online training provides tools to conservative activists anywhere in the world.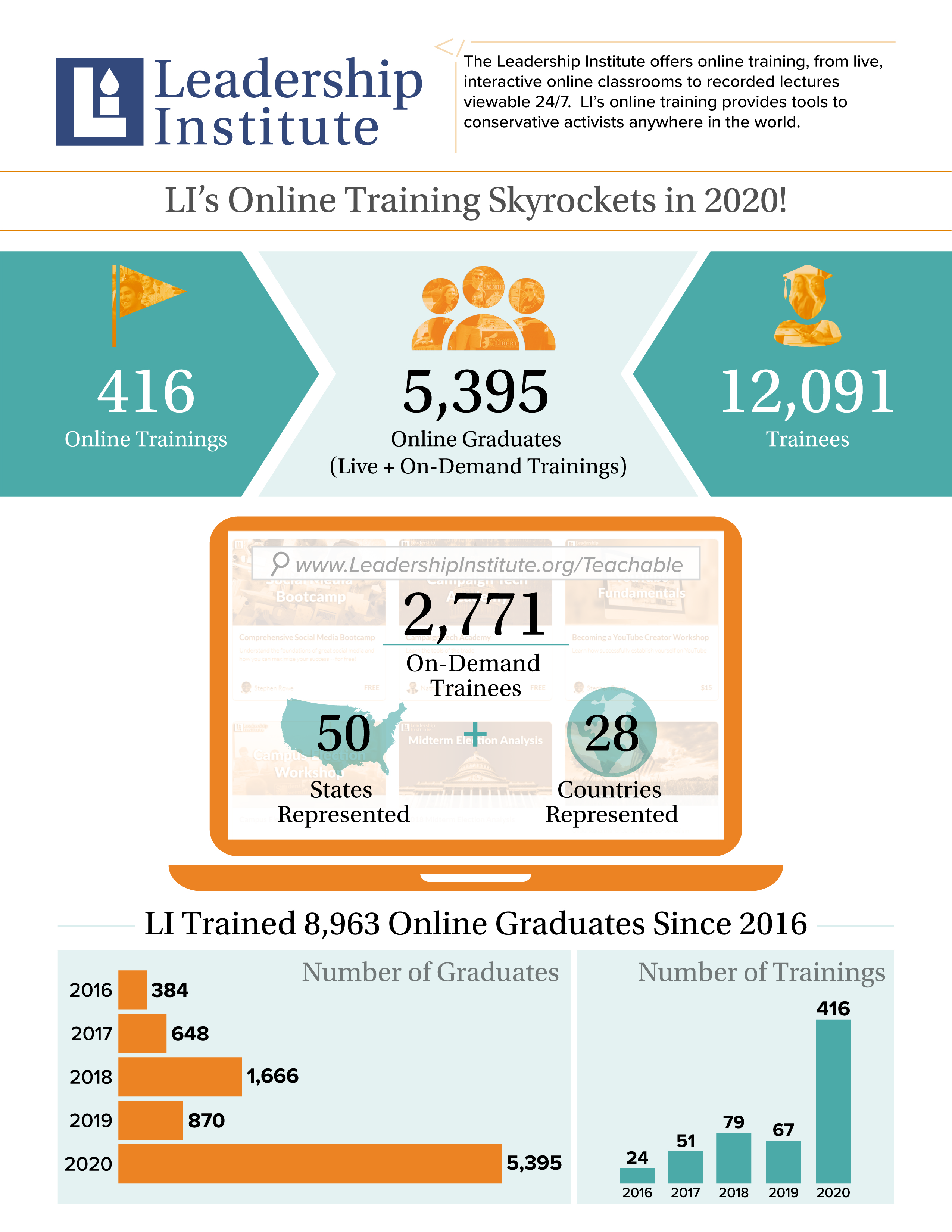 The Leadership Institute brings powerful political, communication, and fundraising training to conservative and pro-liberty activists, students, and leaders around the world. International partners help cover the cost of LI programs abroad. Less than 2% of the Institute's budget is allocated for international training.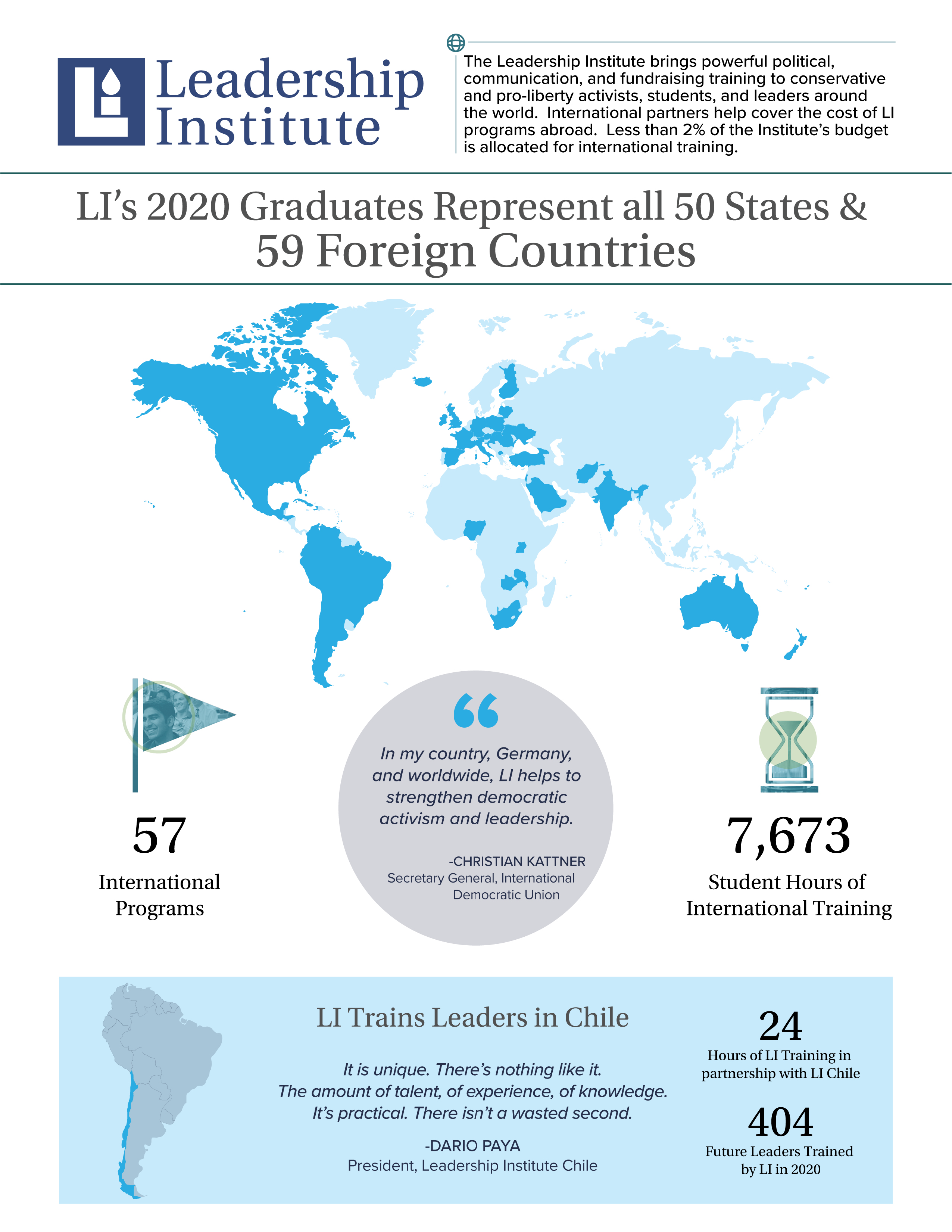 Notable LI graduates include Dan Crenshaw (R-TX-02), Jim Jordan (R-OH-4), Kat Commack (R-FL-3), Katherine Timpf (Fox News), Amanda Carpenter (CNN), and Tom Fitton (Judicial Watch).
If you are motivated in 2021 to use your talents for conservative activism either on campus or in your community, visit LI's website for the complete list of 2021 trainings available. They are low-cost or no-cost to you, thanks to Leadership Institute donors.
Go to LeadershipInstitute.org/Training and sign up now to be successful in 2021 and for years to come.
If you are interested in seeing more Leadership Institute 2020 accomplishments, click here.