Running for local office can be a very costly and time-consuming endeavor, between finding volunteers, financing advertisements, and everything in between. The last think you need is to shell out anywhere from $100-850 on a good graphic designer, but it's equally as difficult to learn how to use graphic design tools that also tend to come with a hefty price tag. This is where Canva comes in to help people like you.
Canva is an online graphic design service and full-service print shop all in one. Their print shop allows you to order t-shirts, flyers, business cards, and more without having to deal with the fuss or high prices of local brick and mortar print shops. You can use their templates to create a cohesive and professional campaign to make sure you are putting your best foot forward.
With Canva, you can choose from hundreds of templates, font styles, graphics (elements), colors, images, and more. They offer templates you can use for everything from platform specific social media posts, to yard signs and t-shirts. Canva also provides you with the ability to upload your own logos and images as well as create your own templates so you can be sure your campaign materials will be as cohesive as possible.
While Canva may seem like the service you have been dreaming of for your local campaign, it is important to note that some of its services are not without a price tag. Some of their templates, fonts, graphics, and other services require a subscription to Canva pro. This subscription will run you around $9.99/month so it is definitely cheaper than hiring a graphic designer, but not completely free depending on your template or font preferences. You may also use their pro templates, fonts, graphics, and effects for $1 per use if you do not want to become a pro member.
Below are four suggestions for creating a cohesive theme throughout your campaign by using templates and design options found directly on Canva.
Facebook Cover Photos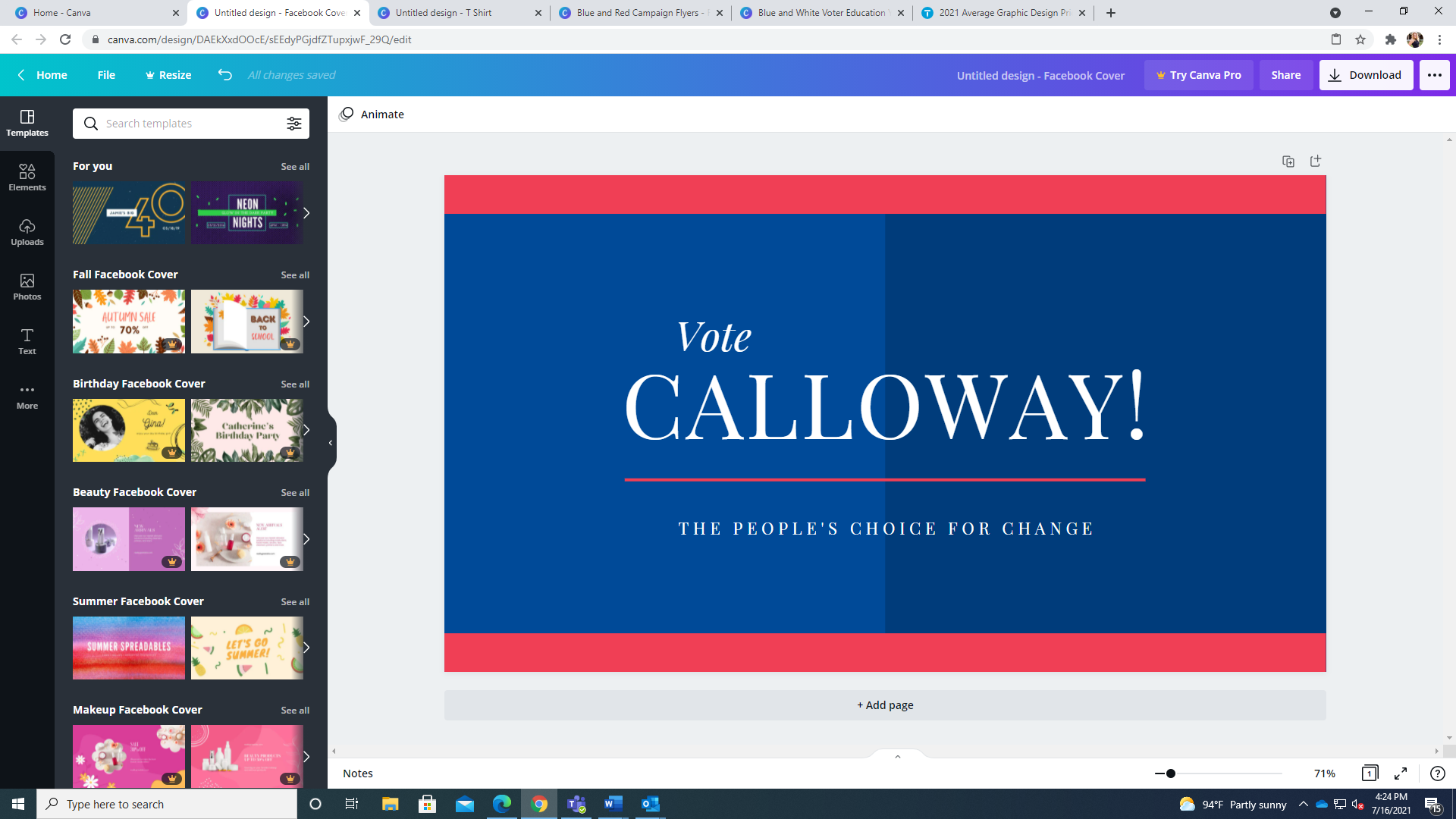 Facebook pages are a great way to spread your message, especially in local elections. Canva has template options so you can be sure your cover photo stays on brand with the rest of your campaign. An eye-catching cover photo that sticks with the theme of the rest of your campaign materials will make your page easier to find and boost your webpage traffic tremendously.
Yard Signs
Yard signs are one of the most common campaign materials, especially in local elections. Making sure your yard signs match the rest of your materials is crucial to developing a cohesive campaign. Luckily, Canva offers templates and color coding so you can be sure to have yard signs that match with the rest of your campaign.
Flyers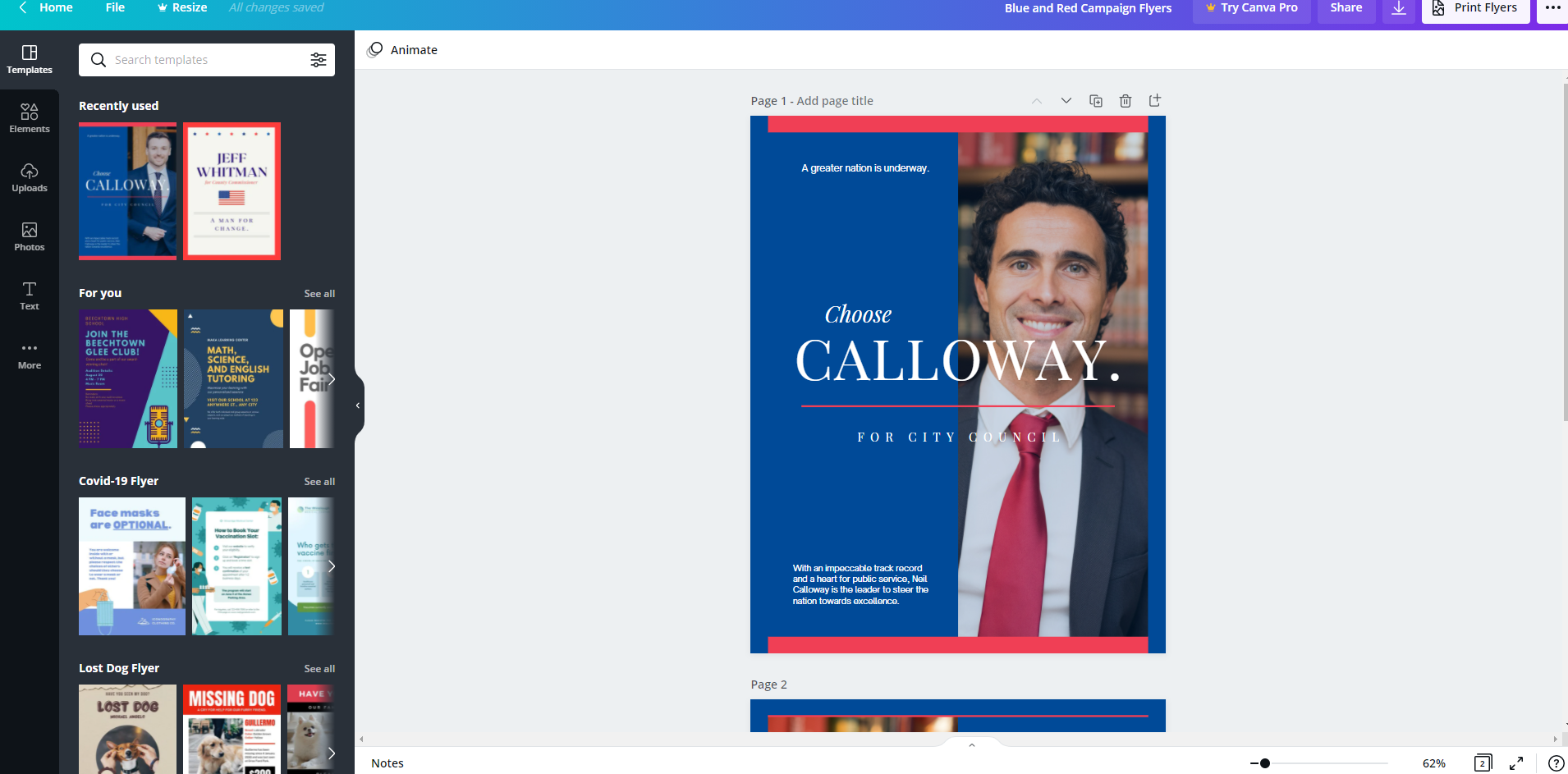 Flyers are another great tool to boost your base. They also provide you with the opportunity to lay out where you stand on the issues in a fun and interesting way. Below is an example of how you can use your flyers to maintain your theme and look professional using templates you can find on Canva's website for free.
T-Shirts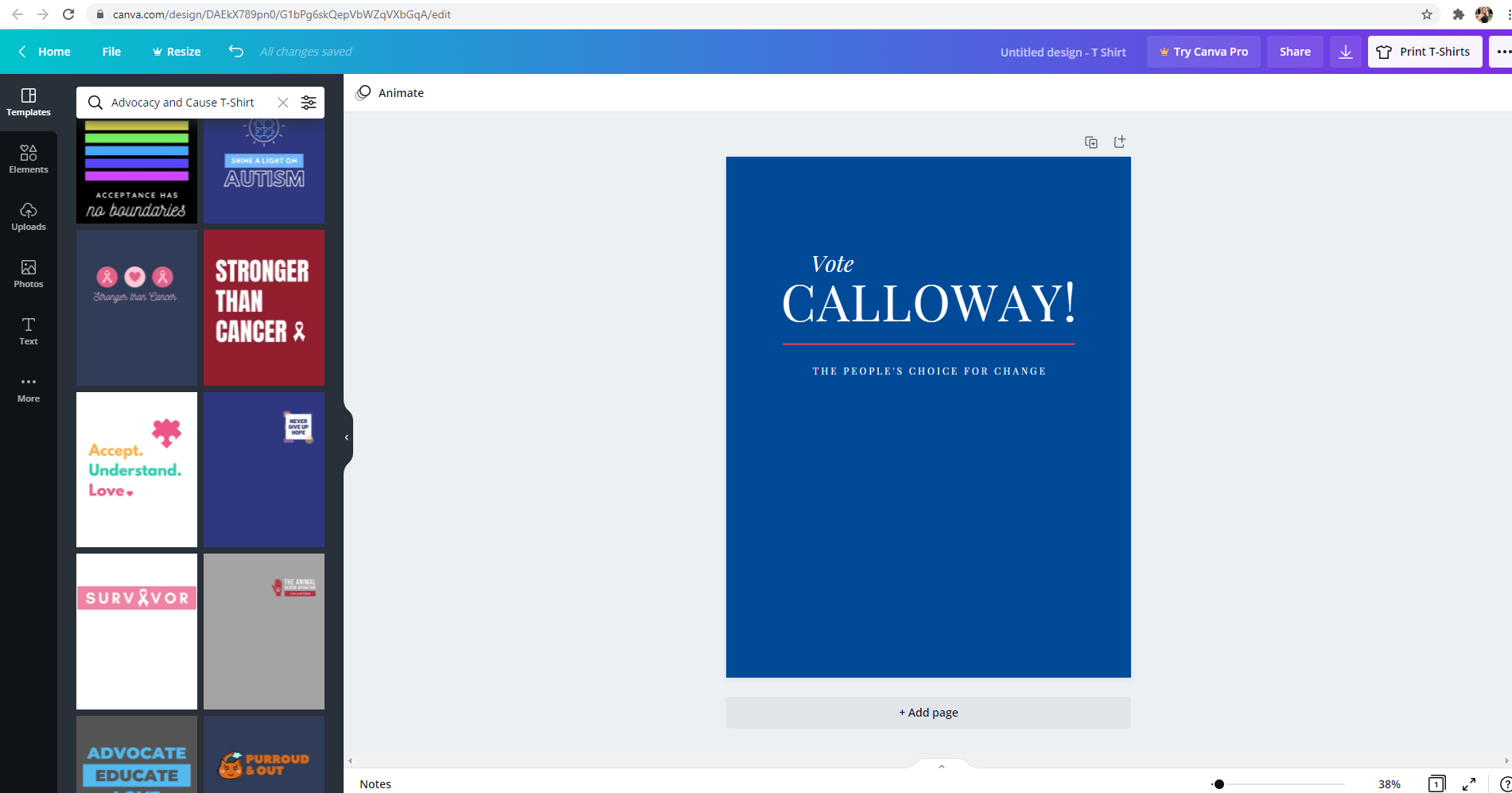 T-shirts are another one of the most popular ways to get the message of your campaign out. They also work as a great way for your supporters to broadcast their support for all of their friends and family to see.
Overall, Canva offers thousands of design options so you can be sure to put your best foot forward and build your brand as professionally as possible, at a fraction of the price of other platforms. Between their full-service print shop and their digital options Canva offers all the promotional materials you need from the moment your campaign launches until the last ballot is cast.
For more information on Canva be sure to attend Leadership Institute's Digital Download, Canva for Graphic Design, where you'll get hands on instruction on how to use all the features discussed in this article and many more.